Learning Light Associate Member
working with European Partners
The MRS Consultancy, an associate company of Learning Light are the Project Managers of a european initiative funded by the Leanardo da Vinvci Fund, working with partners in Poland, Belgium, Spain and UK. The project 'ICTforSME' focuses on strengthening innovation in SME's by tackling two key areas: knowledge and tools.
The project results in the production of e-learning courses that present an holistic approach to ICT issues across the management spectrum, with a focus on innovation. There are 6 courses available designed in English and translated to into the Partners' national languages;
Innovative Financial Management
Marketing Research in Innovation
Customer Relationship Management (CRM)
Innovative Product Development
Cultural Management
E-Marketing
A further result is a computer software system for use in-house providing valuable features that improve the efficiency of recipient organisations and increases their profits.
The final resultant outcome is the methodical and training instruction manuals prepared for both the direct beneficiaries and the trainers.
Latest News

Learning Light has worked in collaboration with the Human Capital Management magazine (HCM), offering indepth analysis into how people and technology improve business performance.
Visit our Associate Jon Ingham's Strategic Human Capital Management blog for the latest insights.
Learning Light
Systematic Literature Review
Learning Light and The University Of Sheffield have carried out a comprehensive Systematic Literature Review of e-learning research in the workplace. Please click below to see our literature roadmap.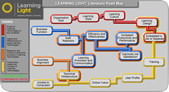 Library
Library Selected and reviewed articles, white papers, research reports, journal articles and resource collections in the wide field of e-Learning.



Showcase
Showcase Examples of interesting online courses, learning materials and other e-Learning solutions for business, colleges, universities as well as for general interest.
Events
Events Conferences, workshops, seminars and short courses in the area of e-Learning - both traditional, face-to-face events as well as online events.
Products & Services
Products and Services e-learning products and services in 3 categories:
e-Learning tools and systems
Off-the-shelf e-learning content
e-Learning service providers (content developers, consultants, etc)