Bookshop 2003
These are e-learning books added in 2003. All books are available from Amazon unless stated otherwise.
Articles in date order, most recent first.
Submit a new Book
| January | February | March | April | May | June | July |
| August | September | October | November | December |
The Non-Designer's Design Book
By Robin Williams
"Subtitled Design and Typographic Principles for the Visual Novice, this book is for anyone who has to design a newsletter, job ad, flyer, business card, memo, report or whatever, but has no idea what separates good design from bad. Except, of course, that the first looks clear, professional, sophisticated and right, and the second is an ugly, unreadable mess."
Added: 24 December 2003
Reviewer's Note:

top
---
Online Education and Learning Management Systems: Global E-Learning in a Scandinavian perspective

By Morten Flate Paulsen
"This book is intended for an international audience with an interest in education and the Internet. It will be of special value to students, teachers, course designers, administrators, decision makers and educational officers in public and private sectors. The book discusses major developments in online education, and provides illustrating examples from the author's Scandinavian and international research. It includes articles outlining a theory of online education, teaching techniques, learning management systems, recommendations for decision makers and terminology."
Added: 27 November 2003
Reviewer's Note:

top
---
E-Learning Standards: a Guide to Purchasing, Developing and Deploying Standards-conformant E-learning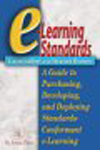 By Carol Fallon and Sharon Brown
"There are distinct sets of standards in the eLearning, or online classroom, environment that enable all components of a learning system to communicate with each other. However, choosing which set of standards would best suit the system's needs, then understanding and following those specificatioris can be a daunting task. In E-Learning Technology Standards, the developers of the first company to be AICC-certified provide the first road map to this complex topic. They offer a brief history of the specifications and standards, clarify which specification or standard applies to each eLearning component, and give practical advice on how to build a "future-proof" eLearning environment."
Added: 7 November 2003
Reviewer's Note:

top
---
E-Learning Fieldbook: Implementation lessons and case studies from companies that are making e-learning work

By Nicholas Van Dam
"This work presents the lessons learned by leading companies as they have implemented e-learning. It covers how to use e-learning to support your organization's strategic business goals, and learn the techniques and approaches that are working - and avoid solutions that aren't working"
Added: 7 November 2003
Reviewer's Note:

top
---
By Clive Shepherd
"This book is a compilation of articles written over the past three years by Clive Shepherd for IT Training magazine. Each chapter examines an important aspect of online learning, with the uninitiated reader in mind, but with a depth of critical analysis that will appeal to seasoned campaigners. Topics include: e-learning skills; quality control; encouraging take-up and completion; content development; online tutoring; accessibility; games and simulations; learning objects; learning management systems; online assessment; electronic performance support; authoring tools; streaming media; mobile learning; virtual classrooms."
Added: 7 November 2003
Reviewer's Note:

top
---
Student retention in online, open and distance learning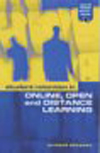 By Ormond Simpson
"Student Retention in Online Open and Distance Learning was written as a practical guide to what works in increasing students' retention from course design to student support. It covers topics such as who drops out and why, the importance of recruitment- getting students on course, retention - keeping them on course, retrieval - getting them back after they've dropped out, as well as course design for retention and the problems of 'retentioneering' an institution. There is an emphasis on the costs of activities where they can be estimated and the resultant benefits"
Added: 7 November 2003
Reviewer's Note:

top
---
Simulations and the future of Learning: An innovative (and perhaps revolutionary) approach to e-learning
By Clark Aldrich
"Simulations and the Future of Learning offers trainers and educators the information and perspective they need to understand, design, build, and deploy computer simulations for this generation. Looking back on his recent first-hand experience as lead designer for an advanced leadership development simulation, author Clark Aldrich has created a detailed case study of the creation and deployment of an e-learning simulation that had the development cycle of a modern computer game. With this book Aldrich, a leader in the e-learning field, has created an intriguing roadmap for the future of learning while taking us along on an entertaining rollercoaster ride of trial and error, success and failure."
Updated: 3 November 2003
Reviewer's Note:
More information (PDF) (http://www.e-learningcentre.co.uk/eclipse/Resources/CAldrich%20-%20Simulations%20and%20the%20Future%20of%20Learning.pdf)
top
---
Getting the most from online learning: a learner's guide

By Piskurich
"Getting the Most from Online Learning is a must-have resource that helps people, become better e-learners by showing them how to prepare for, participate in, and apply e-learning in all its variations. Written by the leaders in e-learning, this book is filled with practical ideas, suggestions, and information about a wide variety of topics including how to: * Participate effectively in on-line learning experiences * Contribute to and learn from discussion groups and chat rooms * Handle e-learning peer evaluations * Participate in online group projects In addition, the expert authors share their personal e-learning experiences and show how they have mastered the discipline of e-learning for themselves"
Added: 31 October 2003
Reviewer's Note:

top
---
By Richard E Mayer
"For hundreds of years verbal messages - such as lectures and printed lessons - have been the primary means of explaining ideas to learners. In Multimedia Learning Richard Mayer explores ways of going beyond the purely verbal by combining words and pictures for effective teaching. Multimedia encyclopedias have become the latest addition to students' reference tools, and the world wide web is full of messages that combine words and pictures. Do these forms of presentation help learners? If so, what is the best way to design multimedia messages for optimal learning? Drawing upon 10 years of research, the author provides seven principles for the design of multimedia messages and a cognitive theory of multimedia learning. In short, this book summarizes research aimed at realizing the promise of multimedia learning - that is, the potential of using words and pictures together to promote human understanding."
Added: 31 October 2003
Reviewer's Note:

top
---
E-Learning Strategies: How to get Implementation and Delivery right First Time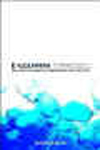 By Don Morrison
"E-Learning Strategies will help you develop a vision and a framework to inform your implementation process. The vision needs to compelling. Doing the same things better isn't enough; the vision should present a picture of doing what you've never been able to do before. The framework isn't a project plan; it's an analysis of everything that impacts on an e-learning implementation. E-Learning Strategies is designed to help decision takers and implementation teams understand the elements of e-learning and the issues surrounding them. With chapters divided into What You Need to Know and What You Need to Do, E-Learning Strategies is a valuable resource for anyone responsible for e-learning strategy and execution."
Added: 10 May 2003
Reviewer's Note:
More information (http://www.morrisonco.com/el_strategies.htm)
top
---
By Donald Norris, Jon Mason and Paul LeFrere
"For an overview of key trends and issues in the Knowledge Economy, read the introduction and the brief summaries at the beginning of each chapter. Each chapter also contains a list of terms and concepts. This book is designed to make it easier to skim high-level concepts and drill down into the details on items of personal interest. When skimming, pay attention to boxed information, tables, graphics, bolded passages, and section headings"
Added: 7 April 2003
Reviewer's Note:

top
---
E-Learning in the 21st Century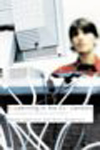 By D R Garrison and Terry Anderson
"There is currently a technological revolution taking place in higher education. The growth of e-learning is being described as explosive, unprecedented, and above all, disruptive. This timely and comprehensive book provides a coherent framework for understanding e-learning in higher education. The authors draw on their extensive research in the area to explore the technological, pedagogical and organisational implications of e-learning, and more importantly, they provide practical models for educators to use to realise the full potential of e-learning."
Added: 31 March 2003
Reviewer's Note:

top
---
A blueprint for computer-assisted assessment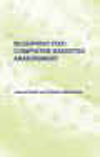 By Joanna Bull and Colleen McKenna
"The rapid development and integration of computer-assisted assessment (CAA) in mainstream post-compulsory educational institutions today make this an exciting and invaluable reference text. It provides a practical, research-based guide on a subject that is becoming increasingly important as the use of technology in education assessment expands."
Added: 31 March 2003
Reviewer's Note:

top
---

By Bill Shackelford
"The fifth book in ASTD's E-Learning Series walks you through the basic elements of launching and managing a successful e-learning project. Learn why e-learning projects often fail and how to avoid technical issues that can bring an e-learning project to a halt. Practical hands-on exercises and worksheets, and a companion website with helpful downloads make it easier and quicker to improve a current project or plan future e-learning initiatives."
Added: 19 January 2003
Reviewer's Note:
More information (http://www.projectmanagingelearning.com/)
top
---