Bookshop 2006
These are e-learning books added in 2006. All books are available from Amazon unless stated otherwise.
Articles in date order, most recent first.
Submit a new Book
| January | February | March | April | May | June | July |
| August | September | October | November | December |
Clark N QUinn
Learning is at its best when it is goal-oriented, contextual, interesting, challenging, and interactive. These same winning characteristics also define the best computer games, which suggests that the most effective learning experiences are also engaging.
Added: 1 September 2006
Reviewer's Note:

top
---
Moodle E-Learning Course Development
William Rice
"A complete guide to successful learning using Moodle. Straight-forward coverage of installing and using the Moodle system. Working with Moodle features in all learning environments. A unique course-based approach focuses your attention on designing well structured, interactive, and successful courses"
Added: 24 August 2006
Reviewer's Note:

top
---
Handbook of Research on E-Portfolios

Ali Jafari and Catherine Kaufman (Eds)
"The Handbook of Research on E-Portfolios" is the single source for comprehensive coverage of the major themes of e-portfolios, addressing all of the major issues, from concept to technology to implementation. It is the first reference publication to provide a complete investigation on a variety of e-portfolio uses through case studies and supporting technologies, and also explains the conceptual thinking behind current uses and potential uses not yet implemented. Over 70 international experts with countless years of experience lend this handbook the credibility that assures its readers of its extensive, recent, and reliable content. "The Handbook of Research on E-Portfolios" is the first handbook to investigate commercial and academic e-portfolio systems - home-grown, off the shelf, and open source - and to supply proof-of-concept evidence of successful systems.
Added: 14 May 2006
Reviewer's Note:

top
---
Steven H Gluckman
The newest frontier in law firm training and development is e-learning. This book defines e-learning and its application in law firms, including how it impacts continuing legal education (CLE). It focuses on e-learning's benefits, uses, and variations applied to lawyer training and development. Readers will learn how to design an e-learning curriculum, identify and develop content, and align e-learning with their firm's objectives. The book also includes a discussion of learning management systems (LMS) and a business case for firm e-learning.
Added: 14 May 2006
Reviewer's Note:

top
---
Blogs, wikis, podcasts, and other powerful web tools for classrooms
Will Richardson
New easy to use, low-cost Web publishing and information gathering tools are spawning a revolution in our relationship to the Internet. Now, with Blogs and podcasting, millions of people are creating content for the Internet as well as consuming it. Outside the classroom, students are at the forefront of innovative and collaborative site development, just as they were often ahead of the curve in bringing results from Internet research into the k-12 classroom ten years ago. For educators, the potential changes in the ways our teachers teach and students learn are momentous. The tools of the new Internet give us opportunities for collaboration and for constructivist learning, and allow students to become meaningful contributors to the vast body of knowledge that is the Internet.
Added: 14 May 2006
Reviewer's Note:

top
---
Creating successful e-learning: a rapid system for getting it right, first time, every time: rapid protoyping
Michael W Allen
The ADDIE (analysis, design, development, implementation, and evaluation) process remains the dominant instructional model. Yet, it is not the optimal process for the design of e-learning. It neither takes advantage of the technology underlying e-learning nor produces the kind of creative and effective learning experiences we need. What is the alternative? Rapid Prototyping: the method now employed by most experienced designers. In this book, one of six in Michael Allen's Online Learning Library, Allen shows how rapid prototyping methodology--using successive cycles of analysis/evaluation, design, and development--can bring tremendous cost, efficiency and creative benefits to e-learning.
Added: 30 April 2006
Reviewer's Note:
Publication date: 30 May 2006
top
---
Using Moodle: Teaching with the Popular Open Source Course Management System
Jason Cole
Developed by an extremely active open source community, Moodle is a sophisticated course management system that's ideal for creating dynamic online learning communities and for supplementing face-to-face learning. Used in more than 115 countries and supporting over 60 languages, Moodle can scale from a single-teacher site to a 40,000-student university. Teachers who use Moodle have access to an array of powerful tools such as assignments, forums, journals, quizzes, surveys, chat rooms, and workshops. Using Moodle is a comprehensive, hands-on guide that explains how the system works, with plenty of examples and best practices for its many features and plug-in modules. Authored by a member of the Moodle community, this authoritative book also exposes little-known but powerful hacks for more technically savvy users. For anyone who is using-or thinking of using-this CMS, Using Moodle is required reading
Added: 20 March 2006
Reviewer's Note:

top
---

Marc J Rosenberg
A follow-up to his best-selling E-Learning, Beyond E-Learning explains the most current thinking on how organizations learn and apply what they know to be successful, and explores the increasingly important role that technology plays, not as an end in itself but as a vital means to get there. The book also provides a clear path for helping to integrate learning-including e-learning-knowledge management, and performance support, and will help training professionals and the organizations they serve go beyond common myths and misconceptions about training and e-learning, focus training/learning activities directly on organizational know-how, and implement a framework that can (at last) be a catalyst for true organizational learning. Available from the ASTD Store.
Added: 7 March 2006
Reviewer's Note:

top
---
Don't bother me mom - I'm learning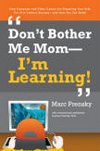 Marc Prensky
Marc Prensky presents the case - profoundly counter-cultural but true nevertheless - that video and computer game playing, within limits, is actually very beneficial to today's "Digital Native" kids, who are using them to prepare themselves for life in the 21st century. The reason kids are so attracted to these games, Prensky says, is that they are learning about important "future" things, from collaboration, to prudent risk taking, to strategy formulation and execution, to complex moral and ethical decisions. Prensky's arguments are backed up by university PhD's studying not just game violence, but games in their totality, as well as studies of gamers who have become successful corporate workers, entrepreneurs, leaders, doctors, lawyers, scientists and other professionals.
Added: 16 February 2006
Reviewer's Note:
Can be purchased from Paragon House in the US
top
---
Classroom blogging: a teacher's guide to the blogosphere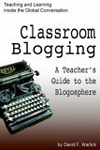 David Warlick
"Weblogs are about reading and writing. Literacy is about reading and writing. Blogging equals literacy. How rarely does an aspect of how we live and work plug so perfectly into how we teach and learn? Reading this book will give teachers important clues not only in how to become a blogger and to make their students bloggers, but also how this new avenue of expression is revolutionizing the information environment that we live in."
Added: 2 February 2006
Reviewer's Note:

top
---
Making Distance Education work: Understanding Learners and Learning at a distance
S Joseph Levine
A guide for effective development/delivery of distance education programs. Focuses on principles of distance education, who distance education learners are, and examples of learner-focused distance education programs. An essential reference for creating distance education programs, conducting distance education programs, and learners who are considering learning at a distance.
Added: 11 January 2006
Reviewer's Note:

top
---